The Mazak Optiplex, one of Mazak's 2D laser cutting machines is equipped with intelligent functions for reduced set-up time including a high-speed pallet changer.
Benefits of the Mazak Optiplex
High performance, low operating costs and a wide range of applications, offers job shops a real competitive edge.
High Speed Pallet Changer (19 seconds!) that is 58% faster than previous models
Features the new Preview 3 control with touch screen automatically determines the required lens, nozzle, feedrate and laser output for different materials and thicknesses.
The new Type 10 resonator with ECO mode reduces operating costs (gas and air) by up to 50%.
Fully automated and optimized Intelligent Setup and Intelligent Monitoring enables optimized cutting even during extended unattended operation. It helps reduce operator dependency

Automated setup helps you run optimized for increased productivity
Typically, laser operations that accommodate varied workpiece materials and thicknesses are automated by compromising cutting parameters such as nozzle diameters and condition. This can significantly effect the productivity and cost of operation especially with today's focus on smaller batch sizes. Mazak has developed a series Intelligent Setup and Intelligent Monitoring that enable optimized cutting even during extended unattended operation.
Intelligent functions help to reduce pierce times and maintains cut performance
Pierce Detection Senses the beam reflection until it pierces and then automatically moves to the cutting segment of the program.
Burning Detection Senses beam reflection when self burning occurs either slowing down or, when not effective, stopping the process.
Plasma Detection Senses plasma when ineffective stainless or aluminium cutting occurs slowing down the process until plasma is reduced.
Preview 3 CNC with touch screen simplifies operation
The Preview 3 CNC automatically determines the cutting speed and acceleration from each point to the next from the program contour. This CNC system makes it possible to achieve ultra high speed together with high precision cutting.
Benefits of the Preview 3 Control
Graphical interface clearly visualizes your cutting path.
Automatic determination of processing conditions including the required lens, nozzle, feedrate and laser output for different materials and thicknesses.
Ergonomic design facilitates ease of use.
15" Touch screen simplifies operation
Swiveling panel with height adjustment
Ergonomic layout with few buttons/dials
Exclusive Mazak Optiplex design gives you more power at the torch
Exclusive constant-beam delivery system
The U axis design compensates for table axis movements to deliver consistent beam power anywhere on the table for more stable cutting conditions and better accuracy.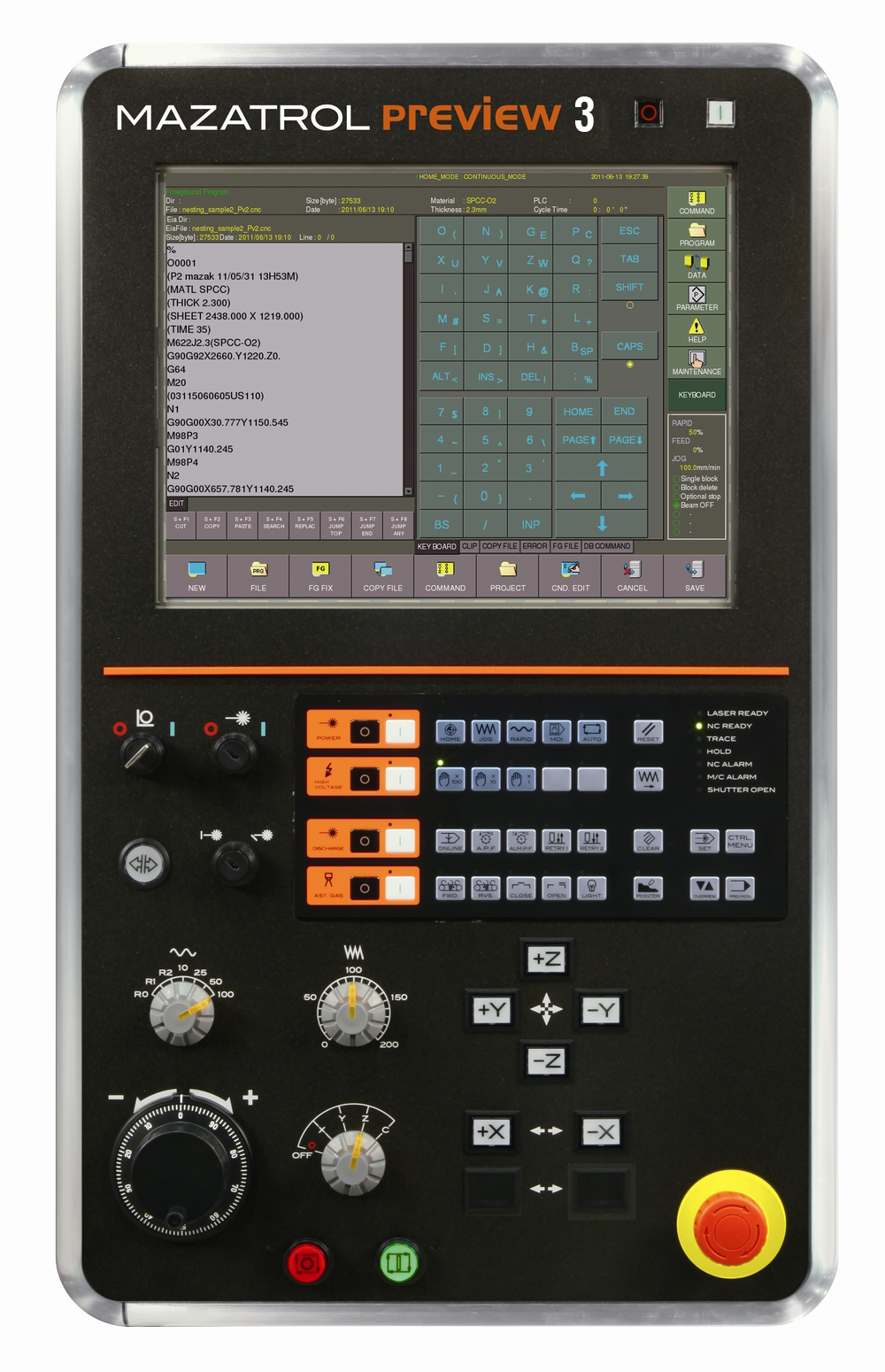 6 External Mirrors
Utilizing 5 fewer mirrors than previous designs significantly increases the power to the torch. All the mirrors are water cooled.
Zeta 9's six intelligent set up functions include auto nozzle changing to optimize assist gas usage and maximize job feedrate, auto focus positioning to maximize part quality, focus detection to automatically calibrate reference positions, auto profiler calibration to keep a stable distance between material and the nozzle while cutting, auto nozzle cleaning to reduce operator intervention, and beam diameter control to cut a wide range of materials by changing the shape of the laser beam. Zeta 9 also offers intelligent monitoring functions including pierce detection to minimize pierce times, plasma detection to monitor and stabilize stainless steel cutting, and burn detection to monitor cutting and notify the operator of poor cutting conditions for mild steel.