Optiplex Nexus 3015 Fiber Laser
The Mazak Optiplex Nexus is a flying optics laser cutting system designed to deliver high performance for job shops and production environments. The Nexus offers an automated pallet changer and large side door access and can be equipped with a 2.0kw, 3.0kw, 4.0kw, or 6.0kw IPG generator.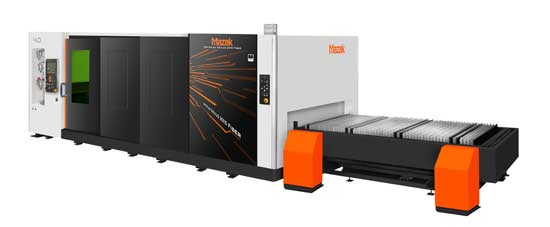 Benefits for the Nexus Fiber Laser
Equipped with sensors in the Multi-Function Torch that monitor piercing and cutting operations to improve throughput and part quality. If an anomaly is detected, the operation is adjusted or paused to automatically achieve effective cutting conditions
Engineered to grow with your business. The Nexus is designed to operate with a range of automated material handling systems
Intelligent setup and monitoring, these features simplify operation and reduce operator dependency
Intelligent Setup and Monitoring
Mazak's Intelligent Technology includes the following intelligent functions that reduce operator dependency, improves cut quality and increases productivity.
Automatic Nozzle Changing
Auto Focus Position
Focus Detection
Auto Profiler Calibration
Auto Nozzle Cleaning
Beam Diameter Control
Pierce Detection
Plasma Detection
Burn Detection