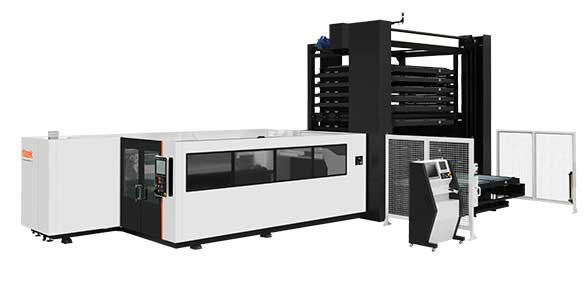 About the Compact Manufacturing Cell
Mazak offers automation for the Optiplex series machines including the compact manufacturing cell which automatically loads and unloads a 10 pallet stocker that can hold up to 2,200 pounds of various material up to 1 inch thick.
While the laser is busy cutting your material the compact manufacturing cell selects the next pallet from the stocker. Once the material is finished processing it is unloaded from the machine and the new pallet of material is loaded. The processes material is moved to back to the stocker or moved to be sorted.
The compact manufacturing cell is designed to reduce the overall footprint of the machine by loading and unloading the materials on the same side, this saves space and reduces your traffic line while processing your material. In addition, the compact manufacturing cell does not require micro joints to keep cut parts and the skeleton attached, which further simplifies processing.
You can also add, as an option, a sorting station and a work lifter for easier access to cut parts.