Fiber and Plasma
The MetalMaster Xcel is a fiber and a plasma table all in one machine. It features an industry leading 3000 IPM traverse speed, robust design, multi-tool capability including plasma beveling, oxyfuel, and drilling. The MetalMaster Xcel is completely customizable allowing for maximum performance and versatility.
Features of the MetalMaster Xcel
6′, 8′, 10′ up to 50′ Heavy-duty Zone Ducted Slagger Table: Three inch plate capacity.Removable slat frames for flexibility during removal.
Global Control Plus with Virtual Service: Featuring an embedded cutting database producing repeatable performance day to day and operator to operator
8.4  and 4.7 HP Brushless AC Drives: Providing electronic armature commutation eliminating brushes, tune ups and feedback belts. High acceleration/deceleration rates virtually eliminating corner dross. 3000 IPM traverse speed.
Precision Linear Ways: provide smooth motion and excellent cut quality ways with full capture bearings in both the X and Y-Axis.
Precision Gearboxes: Low backlash and low inertia gearboxes increases small hole cutting performance and surface finish of cut parts.
Rugged High-Compliance Dual Drive Gantry: Stable platform under all conditions. Compliant end truck, low profile, low mass provides the motion stability required for precision plasma.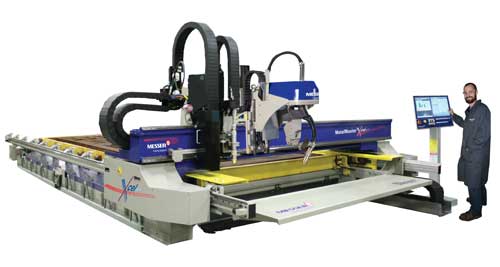 MetalMaster Xcel Comparison Video
Plasma speed comparison video demonstrates the same part being cut with identical cutting perimeters and speeds. With increased acceleration, speed, rapid traverse and lifter speed, you can save 1.5 hours machine time in a 16 hour day making the MetalMaster Xcel 25 times faster than any combination cutting machine on the market. Let the MetalMaster Xcel and Messer Cutting Systems Xcel your productivity to new levels!