Like all Euromac punching machines the MTX Plus FLEX 6 & 12 hybrid comes built with a robust frame and a punching head built directly into the frame making the machine reliable and precise. What's more, thanks to the Flex system, the MTX can punch at high speed while maintaining a constant punching depth.
Autoindex System
The direct drive tool rotation in the Euromac AutoIndex stations uses fewer mechanical components to guarantee strength, more reliable machining results and reduced maintenance, with huge time
savings.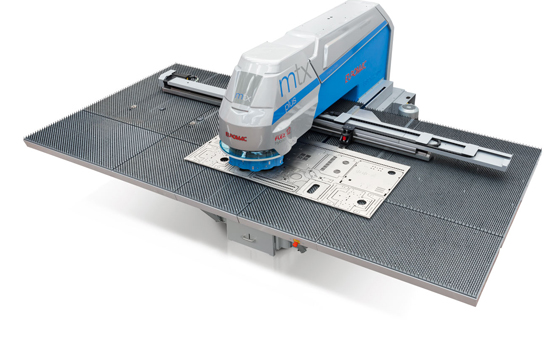 FLEX Hybrid System
Which is better, Electric or Hydraulic? Why not get the best of both? Our unique hybrid system, which we call FLEX, is patented and combines the power of hydraulics with the precision and speed of electronic control. And it combines this with energy saving: rated at just 8.5 kW, it achieves average consumption of a mere 4.5 kW/hour when punching. Apart from setting the stroke of every punch, with the FLEX system you can also control:
Hit rate from 10 to 2000 Hits/min
Acceleration/Deceleration of ram movement
Dwell time
Thanks to the Flex System every Euromac owner now has full control of forming operations, with absolute, constant precision, as well as the capability to handle any application with speed, reliability and cost-effectiveness.
Automation
Add loading and unloading for even more productivity. Click here to see the loading/unloading system.
Specifications of the MTX Plus 6 & 12 Hybrid
| | mtx flex 1250/30-1300 1250/30-2250 1250/30-2500 | mtx flex 1500/22-2500 |
| --- | --- | --- |
| Max. punching force (kN) | 300 | 220 |
| Y axis with Multitool/ Monopunch(mm) | | |
| Y = 1250 | 1300 / 1250 | – |
| Y = 1500 | – | 1550/1500 |
| X axis (mm) | 1300 / 2250 / 2500 | 2500 |
| Automatic repositioning in X (mm) | up to 10.000 | up to 10.000 |
| Numerically control stroke depth (mm) | from 0.1 to 31 | from 0.1 to 31 |
| Hydraulic servomotor controlled system | standard | standard |
| Position accuracy (mm) | +/-0.05 | +/-0.05 |
| Precision in forming repeatability (mm) | +/-0.1 | +/-0.1 |
| Bidirectional Autoindex stations | 3 | 3 |
| Opening of clamps (mm) | 11 | 11 |
| Automatic positioning clamps | 2 | 2 |
| Max. hit rate (1/min): Punching with 20 mm pitch | 375 | 375 |
| Nibbling with 1 mm pitch | 1000 | 1000 |
| Marking | 2000 | 2000 |
| Thickness range (mm) | 0.6-6 | 0.6-5 |
| Max weight at reduced axis spped (kg) | 150* | 150* |
| USB port | 6 | 6 |
| Installed power (kW) | 8.5 | 8.5 |
| Average consumption (kW/h) | 4.5 | 4.5 |
| Approx. weight (kg) X = 1300 | 6500 | – |
| X = 2250 | 7000 | – |
| X = 2500 | 7800 | 8800 |
| Overall dimensions (mm) X = 1300 | 2240 x 3630 | – |
| X = 2250 | 3980 x 3630 | – |
| X = 2500 | 4840 x 3630 | 4840 x 3880 |