Cidan Megapro
The Megapro sheet metal folder is Cidan's top model regarding capacity – built for the industrial use it is able to fold 120'' x ¼" mild steel sheets.
Benefits of the Megapro
Dual servo driven motors for both clamping and folding beams gives an incredibly fast speed and accuracy. Great clamping pressure of 60 tons (66US) for accurate forming.
Automatic adjustment of folding center, folding beam and crowning when your sheet thickness changes.
The clamping beam opens as the folding beam returns so that they are positioned for the next step simultaneously.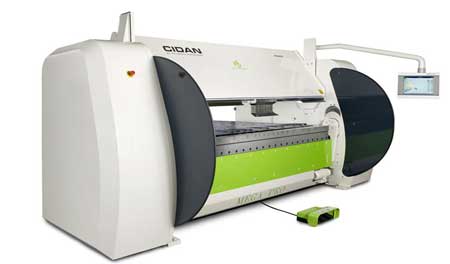 Megapro Standard Equipment
Control System ProLink control with touch screen and graphic programming
Multifold execution with divided lower beam rail (height 51 mm / 2.05") and divided folding beam rail
Folding beam rails 20 mm (.787") and 40 mm (1.57") with quick change tooling
Automatic crowning of folding beam rail
Frequency/servo driven motors for both clamping and folding beams
Automatic adjustment of sheet thickness 0-80 mm (0-3.15″)
Motorized adjustment of folding center 0-80 mm (0-3.15″)
Automatic lubrication
Foot pedal
Options
Motorized back gauge SBG with twice the amount of ball transfers as standard
Solid back gauge fingers (min. dimension 9 mm/.315″)
Squaring arm
Height adjustable back gauge (0-50 mm / 2.6″)
Divided box tooling 100 or 150 mm (4″ / 5.9″) height with automatic locking system
Hardened rails and tools (undivided HRC 45, divided HRC 55)
Automatic stop of folding beam on collision with operator
Movable foot switch on rail
Laser scanner at folding side of machine
Movable tool cart for divided tools
Off line program for ProLink
Extra foot pedal with key switch