The Ocean Clipper CNC Angle Line
This American made CNC angle line has been especially designed for the structural steel fabricator to eliminate costly layout and manual drilling procedures and to fabricate larger profiles in less time. By expediting processing times through elimination of human labor, fabricators achieve greater profits while greatly increasing their tonnage-per-month and tonnage-per-employee outputs.
The Ocean Clipper CNC Angle Line can be installed in any structural steel fabrication shop or other operation where layout and punching of clip angles or similar parts is required. It is capable of processing angles from as small as 1-1/2 x 1-1/2 x 1/8" all the way up to 6" x 6 x 5/8"
The Old Way
Many fabricators are still producing clip angles the old expensive way…laying them out by hand or using a template, taking the angle to an ironworker, punching the holes and slots in each leg, and shearing the clips to length.
And while many fabricators wanted a CNC angle line to speed up the process and reduce the costs, they seldom could afford to by a large CNC angle line.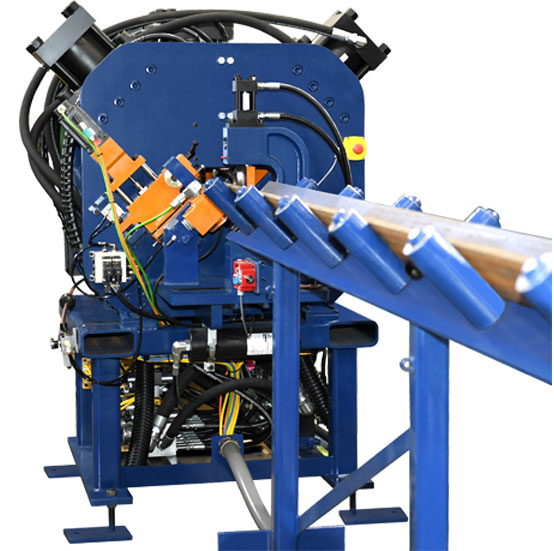 The New Way
Ocean Machinery has created the world's most compact fully automatic CNC angle line, using a unique approach. This has resulted in the most affordable machine on the market today.
Ocean Machinery has been instrumental in bringing unique solutions to the small to medium steel fabricators throughout the world. Our clients range from structural steel fabricators to truck and trailer manufacturers, and now enjoy the benefits of automated production: lower labor costs, increased capabilities and profits, and they enjoy happier clients through improved quality and dependable delivery.
Unique Design
The Ocean Clipper uses a drill spindle in combination with the traditional punch and shear that is typically found on other angle lines. By using a drill/punch combo, the punch and drill can be positioned directly opposite each other – something that is not possible with traditional punch systems. This allowed Ocean to shorten the overall length dramatically. The Ocean Clipper CNC angle line is absolutely unique in the marketplace, and it is the most compact CNC angle line that is capable of processing steel angle sections up to 6'x6'x5/8″ (150x150x16mm).
Features of The Clipper
Ability to process short clip angles, as well as long bracing angles
While the Clipper is not designed to process flat bar, we do have many customers that process flat bar to their satisfaction
Eliminates manual layout, and manual drilling / punching
Provides exceptional accuracy of hole placement, eliminating costly field modifications
Easy installation by fabricator
Very space efficient – no bigger than most ironworkers
Simple and easy to operate
No computer experience required
Fully automatic punching, drilling, and shearing cycle
Immediate payback on a low investment through attractive finance options