More Than an Upgrade
The Ocean Avenger PLUS takes the single spindle concept to a whole new level. And none of the pretenders even come close.
The Avenger PLUS features an 8 tool automatic tool changer that makes swift work in automating all types of machining processes including drilling, part marking, scribing layouts for welded attachments, milling of slots and machining surfaces, counter-boring and countersinking, flow drilling and so much more.
This vast array of processes and the variety of shapes it can process makes it suitable for all types of fabricators and we see this machine in all kinds of industries including structural, oil and gas, highway, rail and transport, billboard, manufacturing and even small job shops.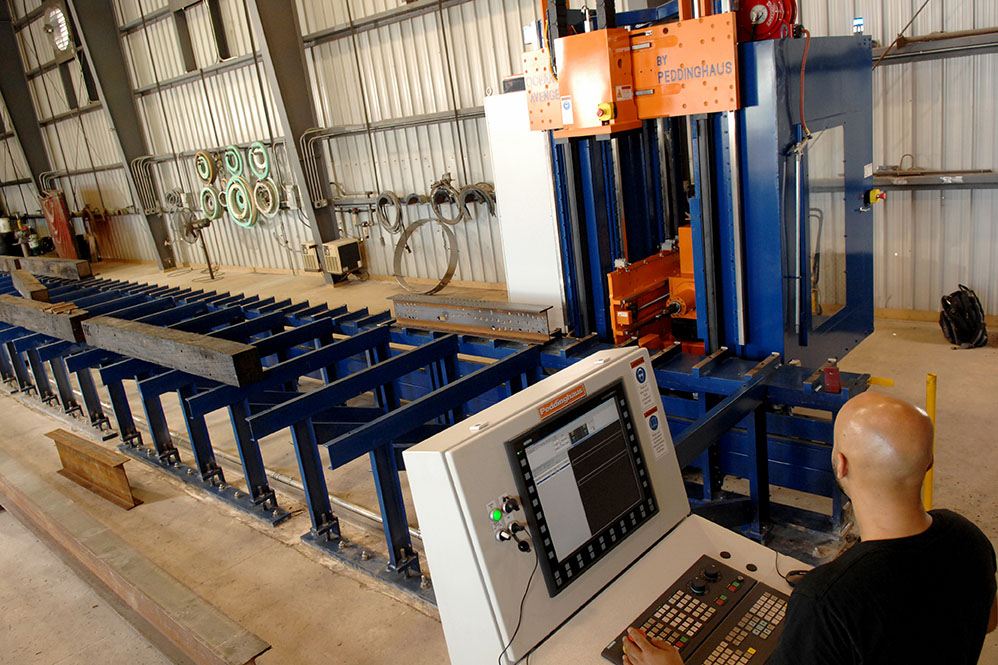 Advantages of the Ocean Avenger PLUS Beam Drill Line
Table lengths of up to 80ft. While the Avenger PLUS is typically sold as a 60ft machine, we can produce Avenger tables up to 80ft long, making them ideal for processing long profiles often used in the bridge industry.
Process all profiles up to 48" in height. And when we say 48" we mean it. We can drill, mill and process any part at its full height at its full speed, both at the bottom of the table right up the top of the part. Not at reduced speeds like so many of the pretenders.
The Avenger PLUS has an 8 position tool changer. With tool change times less than 10 seconds, and the ability to hold 8 tools, even complex parts that require drilling, milling, scribing, threading and countersinking can easily be done in one highly efficient, highly profitable pass.
Automatic drilling of all holes utilizing HSS and Cobalt twist drills as well as super-fast carbide tools. This makes drilling holes in thick steel so much faster than the standard Avenger.
Automatic marking of all welded attachments. The standard Avenger puts pop marks where the welded attachments should be tacked in place, but the Avenger PLUS can actually scribe the lines as well as the weld symbols, and the part number that is to be welded.
The Avenger PLUS features 5 inches of "Sub-X" Axis travel. This means that the spindle is able to move 5" in the X direction and 48" in the Y direction while the part remains clamped.

Drilling multiple columns of holes without having to unclamp and re-clamp. This allows for many other processes.
Milling of horizontal and vertical slots, as well as milling of mechanical pass through's. The maximum vertical slots are up to 46" or just shy of the maximum Y dimension of the part being processed, and the maximum X dimension is limited to the length of the machine (60ft) or the part being processed. Overlapping of multiple 6" slots can create a continuous slot. Milling of square holes to prevent carriage bolts from turning is simple to do on the Avenger PLUS.
Milling a clean face onto a part – where surface finish or prep is required for mating parts
Counter sinking – In certain industries, components require countersunk holes or beveled holes, and this is simple to do on the Avenger PLUS.
Counter boring – In cases where the entire bolt head or nut has to be sunk, such as in the case of wear plates on crushers, hoppers, shot blasters and more, counter boring of holes is requires and this is simple to do with the Avenger
Flow Drilling. Instead of having to do the difficult and time consuming process of welding a nut to the inside of a piece of RHS, consider using a flow drill to displace the material, and then thread the hole, providing a secure "nut" on the inside of the RHS.

Integrates with all 3-D steel detaling software programs, making processing as simples as FILE > IMPORT > SELECT PART > RUN PART. It doesn't get any easier than that