Peddinghaus FPB-1800
Detail components make up the smallest tonnage of any fabricators' workload, but consistently demand the highest amount of labor. The Anglemaster-HD has the ability to process both a fabricators' thinnest angle stock and thickest angle stock.
Benefits of the Anglemaster HD
Processes Everything from Base Plates to Clip Angles
Powerful Shearing – The Anglemaster-HD uses a single cut 515 ton shear press for the cutting to length angle and flat stock. A single cut shear mechanism eliminates the slug created by double cut shear mechanisms.
SignoScript Carbide Scribing – The SignoScript layout marking attachment eliminates human error in manual layout methods. Complete information is maintained throughout blasting, galvanizing and painting processes.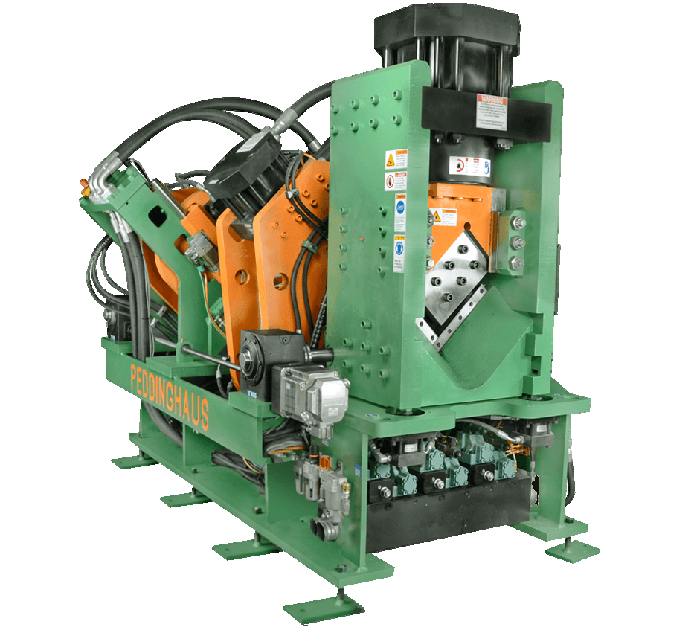 From Base Plates to Clip Angles
The Anglemaster-HD is designed to not only be fast, but versatile. Capable of punching and shearing flat bar up to 12" × 1", and angle up to 8" × 8" × 1", typical structural detail sections are processed with ease. The Anglemaster-HD is also capable of punching (not shearing) channel sections up to 12" wide adding further versatility to the capabilities of the machine.
Comprehensive Material Dimensioning for Faster Production
The Peddinghaus Anglemaster HD utilizes comprehensive material dimensioning to not only increase production, but also create a user friendly atmosphere. By utilizing an array of dimensioning feedback, the Anglemaster-HD can identify the length of stock, thickness of material, and leg lengths (or flat bar width). Once the machine understands all dimensions of material, it optimizes punch and shear motion to increase production efficiency. If stock loaded does not match that of the selected program, the machine will notify the operator and provide the option to continue the program, or locate the appropriate stock type.
A Smarter Anglemaster Smart Cylinder Technology
Using the information gathered by the material dimensioning system, the Peddinghaus Anglemaster HD understands the thickness of material loaded, and employs this information to automatically adjust the three speed punch and shear cylinders. By adjusting the amount of power needed per section size, the machine can take full advantage of lower tonnage / high speed operations when thinner material is being processed. When thicker material is loaded, the machine will maximize tonnages in order to process these sections accordingly.
Peddinghuas Raptor CAD/CAM Platform
Raptor software from Peddinghaus is today's premier structural machine tool CAD/CAM platform. Equipped with versatile modules intended to import, design, and export part programs, Raptor is fully customizable for the unique needs of the individual fabricator.
Industry Applications
Structural Steel Fabricators
Steel Service Centers & Steel Stocking Centers
Transmission Tower Manufacturers
Heavy Equipment Manufacturers
Agricultural Manufacturers
Rock/Stone/aggregate Handling Manufacturers
Stadium Seating & Bleacher Manufacturers
Barge and Ship Building Manufacturers
Conveyor and Grain Handling Equipment Mfg.
Any application where angle iron, channel iron, flat stock, and plate is processed