A 360 Degree Approach to Cutting
The Ring of Fire Thermal Processor utilizes a never before seen 360º approach to plasma cutting. A single Hypertherm Plasma torch is fixed to a rotating "ring", capable of revolving in excess of 360º around the profile being processed. This allows the machine to process all 4 sides of a tube; process each side of a beam, angle, or channel; and mark on 4 sides of any structural member.
In addition to being able to rotate 360º, the Peddinghaus Ring of Fire is also capable of unmatched mitering. Ideal for the creation of weld prep, or compound mitering of profiles, the Ring of Fire's cutting capabilities are second to none.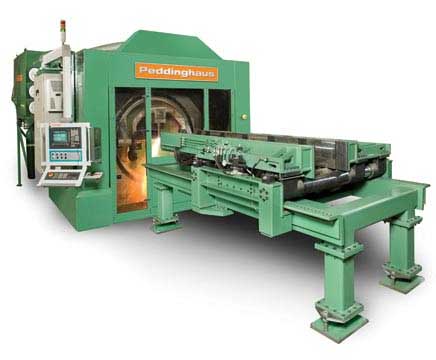 Benefits of the Peddinghaus Ring of Fire
Acts as a coper, angle line, drill line, band saw, and CNC layout machine all in one package
Fixtures are not needed for shapes such as angle, or flat bar
Small parts, or scrap are automatically removed from the inside of the machine with a heavy duty conveyor system
Type of Thermal Cutting Oxy-fuel
Maximum Width Beam 50″
Minimum Width Beam 3″
Maximum Flange Height 24″
Maximum Material (Flange or Web) Thickness 6″
Minimum Material Thickness 1/4″
Number of CNC Controlled Axis 4
Number of Torches 3
Weld Prep Top Flange Yes
Weld Prep Bottom Flange Yes
Machine Weight 16,000 lbs