Mazak offers a variety of 2D laser cutting machines to fit your fabrication process and budget. From the entry level Nexus to the Mazak Fiber, Mazak has a 2D laser to fit just about any application. Many of the Mazak lasers offer one of a kind automated setup functions to reduce errors and operator dependency including; nozzle removal, blue flame test, torch changer, nozzle grinder and more. Take a look at the laser cutting machines Mazak has to offer below.
Mazak 2D Laser Cutting Machines
Mazak DDL Lasers
The new Mazak Direct Diode Laser (DDL) technology is an exclusive breakthrough laser platform that delivers higher performance and reliability than traditional fiber or other solid state laser generation systems.
Mazak Fiber (2D) Lasers
The Mazak Optiplex Fiber laser has improved cutting speed, a stable cutting performance and lowers maintenance and operation costs. Available in up to 10kw configuration.
The Mazak Nexus Fiber is a 2D flying optics fiber laser cutting system is designed to deliver high performance for fabrication job shops and production environments.
The Mazak Nexus Fiber S4 offers variable beam shaping technology that allows users to select the beam shape best suited to their material offering significantly improved part quality.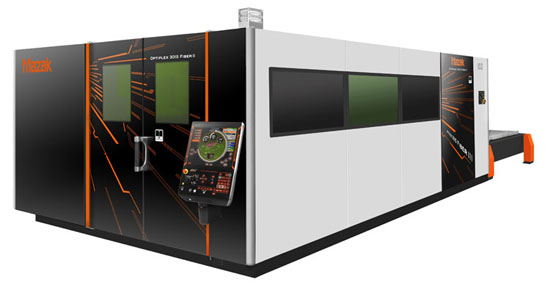 Mazak Co2 (2D) Lasers
Mazak Optiplex The latest in laser processing features http://www.modernmachinerycompany.com/index.php/2d-laser-cutting-machines/mazak-optiplex-flying-optics-2d-laser-cutting-machine/numerous automated functions including a pallet changer.
Mazak Nexus The brand new Nexus 3015 CO2 laser-cutting system combines high performance with a compact and flexible design.
Mazak Champion An economical workhorse with exceptional flexibility