Messer Element 400
The Element 400 is a globally designed cutting machine where productivity is totally redefined. With the focus on form following function, this new gantry shoosh design features a modern color scheme and equipment protection covers. The new HMI software technology with a new 18″ Global Connect control and has OmniFab compatibility. This configuration features improved real-time transparency on maintenance and downtime status, and production reports are transmitted through the controller to a PC or via tablet.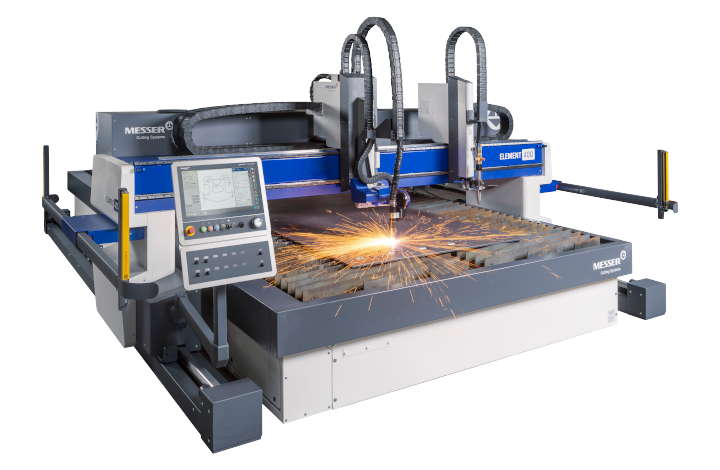 Messer MetalMaster Xcel
The MetalMaster Xcel is a fiber and a plasma table all in one machine. It features an industry leading 3000 IPM traverse speed, robust design, multi-tool capability including plasma beveling, oxyfuel, and drilling. The MetalMaster Xcel is completely customizable allowing for maximum performance and versatility.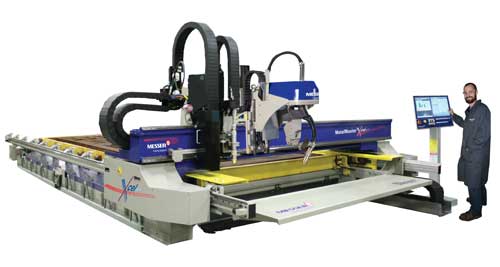 Messer Metal Master Evolution
Evolving to meet the needs of the modern fabrication shop, solving costly secondary operations downstream, the MetalMaster Evolution® will change the way you look at plasma part cutting.
Achieve smooth edge quality, precise hole cutting, and high accuracies through advanced engineering. With high quality components and the strictest assembly and testing methods in the marketplace, the MetalMaster Evolution® will take your shop to the next level. This multiple process cutting machine includes many options such as plasma beveling, oxyfuel cutting, drilling, marking, and so much more.
The Messer Slagger® self-cleaning unitized table is standard on the Evolution forming a solid foundation for this table. There's no need to clean the table or remove slats as the pusher blade does all the work, typically in minutes.
This Evolution can also be equipped with our newest option, the Bevel-R Rotator, A 5-Axis, compact plasma rotator with Messer's SureStop Collision Sensor.
Features of this machine
Machine widths available 6′, 8′ and 10′ (1.8m, 2.4m, 3m)
10′ (3m) machines can expand in 5′ (1.524m) increments to 50′ (15.24)
Machine motion accuracy is an exceptional +/- .002″ (.45mm) over any 6′ X 10′ (1.8m X 3m) area
Positioning speeds up to 2000 ipm
Uses an aluminum beam extrusion for extra stability and support
Many optional processes available: Plasma beveling & oxyfuel cutting, drilling up to 3/8″, marking, pipe and tube cutting, and material handling. Download our brochure for more information
The MetalMaster Evolution® is designed and manufactured in the USA
MPC2000
The MPC2000 is a multi-process Messer cutting machine that can be equipped with multiple carriages up to five separate processes including precision plasma, oxyfuel, 2″ drilling, marking pipe and tube cutting, and fiber laser/plasma combination. The MPC2000 features enhanced linear ways, long-life band drives and larger end trucks. It provides high accuracy, repeatability, and durability.
A total of four separate tool stations may be installed. This plasma cutter delivers clean, smooth cut part edges, precise cut holes, with high accuracy and repeatability. The MPC2000 includes linear motion ways and state-of-the-art AC servo drives provide dependable machine tool performance.
The rugged double beam construction makes it tough enough to keep cutting, even through three shifts. This machine offers the strength and stability for maximum accuracy and repeatability.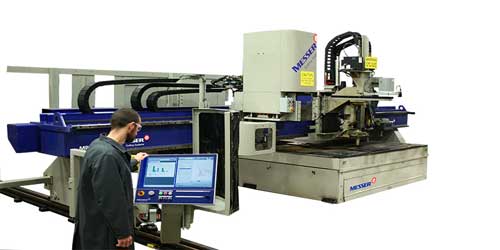 Features and Benefits of the MPC 2000
Multi-process cutting machine
Plasma/Fiber Laser combination cutting
Can be equipped with multiple carriages and up to five separate processes
Includes linear motion ways and state-of-the-art AC servo drives
Cutting width: 8′ (2.438m) to 28′ (8.534m)
Cutting length: up to 200′ (60.69m)
Material Thickness Capacity: 26 ga. to 8″ (203.2mm) dependent on process
Materials Processed: Steel, Stainless Steel, and Aluminum
Global Control PLUS™ easy to us touchscreen interface