Boschert EL Series
The Boschert EL series manually gauged punching machines deliver high performance for small and medium production runs, and single pieces and prototypes. Each of the four hydraulically powered, manually gauged punching machines are equipped with at least 36 tons of punching force, and some with up to 60 tons. A heavy-duty tool adapter with rigid ram guidance delivers precise punch and die alignment. The series provides features like self-regulating overload protection, stripper holder and plate, Trumpf or 28XX Tooling System, maintenance-free hydraulic drive, constant punching pressure and a variety of available adapters. Two-axis digital readouts can be mounted to any EL series machine assuring the highest accuracy and increased productivity.
All machines include:
One year factory warranty on all parts and labor
One stripper holder and plate
Adjustable stroke length
Electrics for 220/440/3/60 operation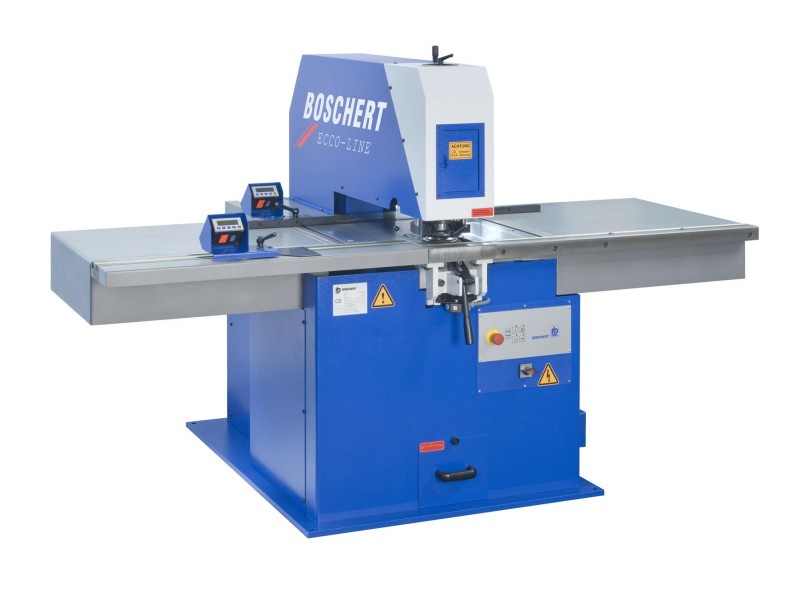 Punching Machine Tooling Systems
The Trumpf and 28XX tooling systems are standard on the EL series manual punching machine. Other systems available include Amada and Strippit. The tool is put directly into the tool holder without any intermediate rings. With standard tools systems, users can maximize their current tooling or purchase tools available from many sources. The tool set consists of the punch, die and stripper and is changed in less than 10 seconds. The largest tool diameter is 4" or any shape fitting within. Tool regrinds are compensated by the adjustable stroke length.
The EL Manual Punching Machine is Equipped With
36 tons of punching force (60 tons optional)
Automatic pressurized lubrication system
Heavy-duty tool adapter with rigid ram guidance
for precise punch and die alignment
Self-regulating overload protection
Stripper holder and plate, die holder
Trumpf or 28XX Tooling System
(Specify at time of order)
Maintenance free hydraulic drive
Constant punching pressure
Strippit, Wiedemann & Amada tool adapters
available
The EL Manual Punching Machine is Perfect For
Small and medium production runs
Single pieces and prototypes