The Accell U builds on the already impressive standard features of the Accurpress Accell E press brake to provide even more flexibility and functionality. The Accurpress U press brake is available in models 175 ton x 10′ to 500 ton x 20′.
Standard Features of the Accurpress Accell U Press Brake
Throat Depth: 16" Throat Depth on machines up to 250 ton models. 18" Throat Depth on 350 – 500 ton models.
Double Bending Speed: On models up to 350 tons: Standard Bending Speed can be doubled from 24" to 48" IPM enabling maximum productivity over production runs.
Control Screen Upgrade: The Vision Screen features the robust Beckhoff control head complete with keyboard/ mouse tray and additional USB port.
Optional ETS3000 Control: This option offers consistency for shops already familiar with the ETS3000 control.
Additional Stroke Lengths/Open Height: This upgrade package provides optional additional Open Height and Stroke Lengths.
Material Compensation Features: Material Thickness Sensing, Teach Crowning and Pressure Compensation all provide real-time positional adjustments based on material variance.
Front Bed Machining: Front bed machined for (OPTIONAL) Precision Sheet Supports and/or Sheet Follower System. These can easily be added for future retrofits.
The 4-point Roller Ways System: Provides the needed stability in Ram Motion for even larger custom Open Height and Stoke Lengths.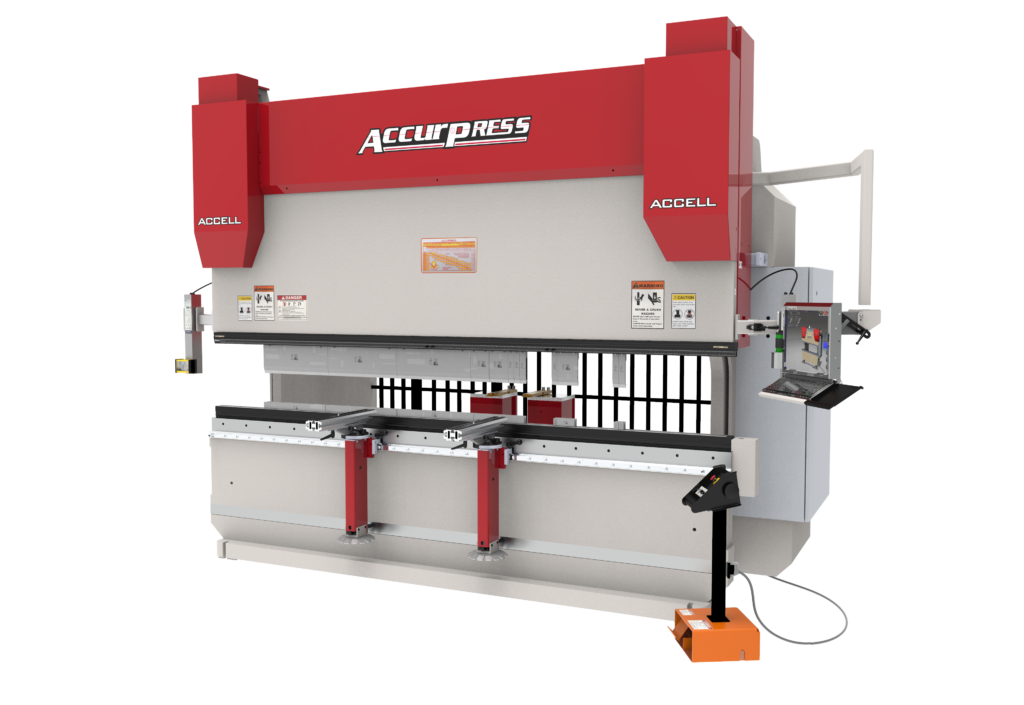 Accurpress Vision Control
The Accurpress Vision control streamlines and simplifies the bending process giving you full control over every aspect of your metal forming.
Features of the Vision Control
Touch screen control
Automatic bend sequencing
Automatic tool selection
Quick tooling change
Complete control over all axis
Simple bump bending
Special bend support such as offset, hemming and pre-bends
Easily program custom tools