The optional Accurpress Advantage package is an economical solution for off-center and stage bending applications.
The Accurpress Advantage press brake delivers +/- 0.0004″ repeat accuracies via a Proportional Valve Hydraulic System. A Dual Ram Feedback system, with encoders mounted at each end of the Accurpress, measures the bending cycle and compensates the ram accordingly when unequal forces are applied across the length.The Accurpress Advantage press brake package is available on all Accurpress press brake models up to 30HP unit size only.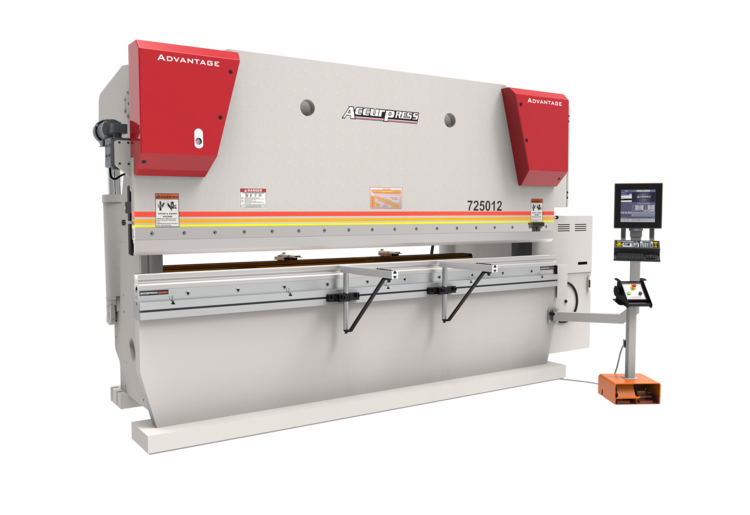 Features of the Accurpress Advantage Press Brake
Unique Design:
The unique "Rocker Arm" Design of the Advantage machine has been tried and proven in a vast number of shops ranging from high precision sheet metal to heavy fabrication applications.
Power Ram Adjustment:
The Power Adjustment allows for fine adjustments of the ram level, optimizing ram/bed parallelism to match various tooling characteristics and doing fade out work. It is easily adjusted via pushbuttons located on the operator control station.
Forming Accuracy:
Accurpress Rocker Arm machines maintain consistently high repeat accuracy over years of dedicated usage; a testament to the quality and longevity of this machine. The optional Advantage Package adds a proportional valve and dual ram encoders which enhances the overall full length bending accuracy for off-center and stage bending applications.
Quality Components:
Accurpress adheres to the highest standards of workmanship utilizing hydraulic, electrical, and mechanical components recognized globally for their high quality and standards of perfection.
Tooling Compatibility:
The Accurpress Advantage is machined to accept American tooling or otherwise prepped for optional Hydraulic Clamping Systems integrated to the machine.
Upgrade Options:
Accurpress machines are built to last for many years of heavy usage. CNC Gauging, upgrades and various accessories may be added at later dates to meet production demands and/or challenging applications.
High Tonnage and Custom Machines
Accurpress offers Rocker Arm machines up to 3000 tons and several options specifically designed for bending heavy plate. Accurpress can also custom engineer machines to fit exact specifications. Whatever forming challenges you have, Accurpress can design a machine to get it done.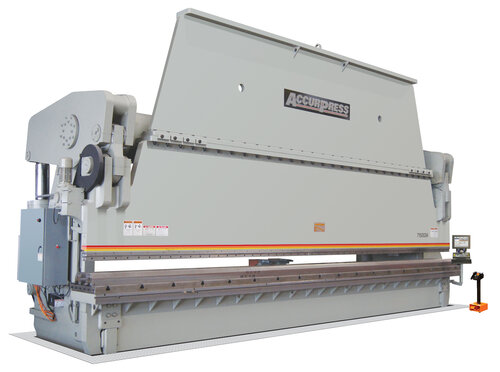 Not the type of press brake you are looking for? We offer a full line of press brakes, take a look.