The Mazak Nexus is a 2D Flying Optics CO2 laser cutting system designed to provide significant performance at an economical investment. The Mazak Nexus is ideal for job shops who are looking to expand into laser cutting services.
The Nexus offers a compact and flexible design with either a fixed table, manual table, or automated two pallet configuration. The Mazak Nexus integrates the Intelligent set up and monitoring functions to simplify operation and reduce operator dependency. The Nexus is also has the flexibility to integrate with Mazak's material automation solutions including the load/unload system and the larger Flexible Manufacturing System (FMS).
The Mazak Nexus can process sheets up to 5′ x 10′ and is available in a 2.5kW configuration.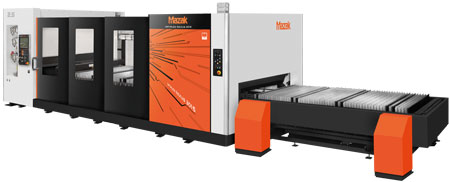 Benefits of the Mazak Nexus
Single fixed table, manual table or automated 2-pallet configurations available.
Helical rack and pinion positioning system features high throughput and rugged construction.
Works with Mazak's large range of material automation systems.
New Preview 3 control with 15" touch screen and integrated tech tables to simplify operation.
Zeta 9 Intelligent Technology (Intelligent Setup and Intelligent Monitoring)
New Preview 3 CNC with touch screen simplifies operation
The Preview 3 CNC automatically determines the cutting speed and acceleration from each point to the next from the program contour. This CNC system makes it possible to achieve ultra high speed together with high precision cutting.
Benefits of the Preview 3 Control
Graphical interface clearly visualizes your cutting path.
Automatic determination of processing conditions including the required lens, nozzle, feedrate and laser output for different materials and thicknesses.
Ergonomic design facilitates ease of use.
15" Touch screen simplifies operation
Swiveling panel with height adjustment
Ergonomic layout with few buttons/dials
Intelligent Setup and Intelligent Monitoring
Auto Nozzle Changing
Auto Nozzle Cleaning
Auto Profiler Calibration
Focus Detection
Auto Focus Positioning
Pierce Detection
Burn Detection
Plasma Detection