Mazak fiber lasers offer higher wattage's and deliver similar cut ranges to CO2 laser cutting systems. These higher wattage's offer many benefits when cutting thinner materials including superior edge quality and a more stable cutting performance. Mazak also offers Intelligent Setup and Intelligent Monitoring of your fiber laser to reduce operator dependence, improve cut quality and increase productivity.
Mazak Optiplex 3015 and 4020 Fiber Laser
The new Mazak fiber lasers improve cutting speed when cutting mild steel up to 6mm compared to CO2 lasers. They offer a more stable cutting performance for stainless, copper, brass, bronze, aluminum, and other exotic metals. It also significantly lowers maintenance and operation costs.
Advantages of Mazak Fiber Lasers
A 2 pallet changer design with a helical rack and pinion positioning system that features high through-put and rugged construction delivers a combination of performance and value.
New Preview G control operates similar to a smart phone or tablet for increased ease of operation
The Mazak Optiplex is equipped with sensors in the Multi-Function Torch that monitor piercing and cutting operations to improve throughput and part quality. If an anomaly is detected, the operation is adjusted or paused to automatically achieve effective cutting condition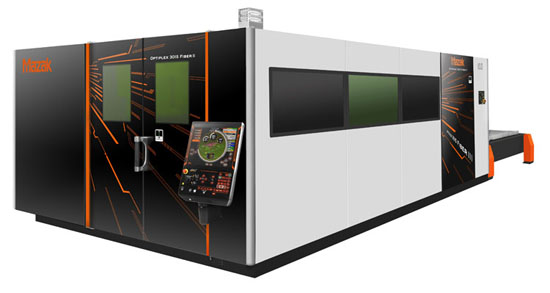 | Machine | Wattage Range | Table Size | Intelligent Setup & Monitoring |
| --- | --- | --- | --- |
| Optiplex Fiber 3015 | 2kw, 4kw, 6kw, 8kw, 10kw | 5′ x 10′ table | Automatic Nozzle Changing, Auto Focus Position, Focus Detection, Auto Profiler Calibration, Auto Nozzle Cleaning, Beam Diameter Control, Pierce Detection, Plasma Detection, Burn Detection |
| Optiplex Fiber 4020 | 2kw, 4kw, 6kw, 8kw, 10kw | 6′ x 12′ table | Automatic Nozzle Changing, Auto Focus Position, Focus Detection, Auto Profiler Calibration, Auto Nozzle Cleaning, Beam Diameter Control, Pierce Detection, Plasma Detection, Burn Detection |
Watch a Video on the Mazak 8kw Fiber Laser