For fabricators who cut 4′ x 4′ sheet metal and some tube and pipe, this is the laser for you. With the SGU-44 you can cut up to 7/8″ mild steel with a 4000kw laser. Mazak's 3D laser cutting machines offer a flexibility not offered by many other lasers.
Benefits of the SGU-44
Compact and affordable all-in-one 2D/3D laser center for maximum flexibility
Laser-cuts stamped, hydroformed and spun pre-formed parts
Processes any length pipe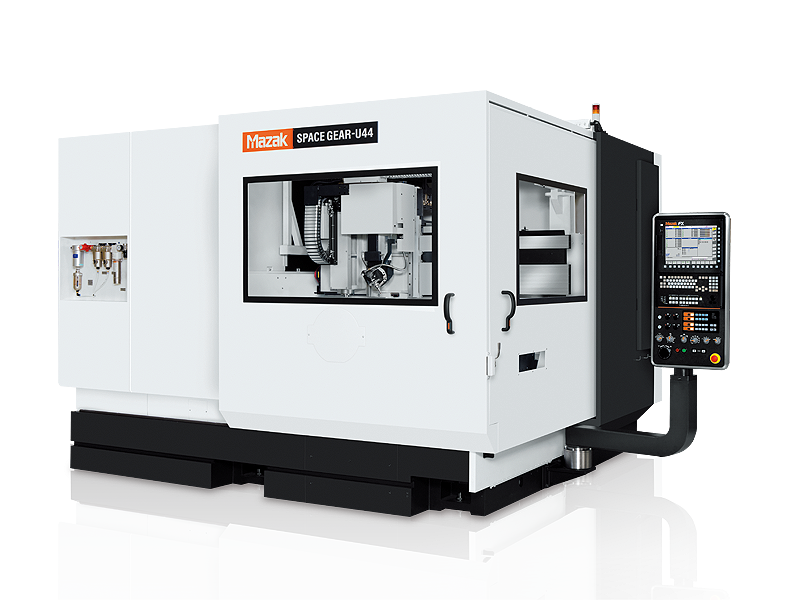 Versatile and Flexible the Mazak SGU-44
Mazak's SPACE GEAR-U 44 delivers the flexibility to perform (1) high-speed 2D processing of sheet metal and plate, (2) 3D cutting of pre-formed parts and (3) 3D-rotary cutting of tube, pipe and structural. It is ideally suited for fabrication job shops seeking to diversify their markets, parts suppliers supplying hydro-formed or stamped parts and machine shops that are now machining thick plates or tubing.
In rotary mode, the SG-U 44 performs 2D and 3D cutting of tube, including rectangular, round, and triangular pipe as well as C, H, I and L-beams within a 6.0 inch diameter. The 5-axis torch and simultaneously controlled chuck let the SG-U 44 fabricate – in one operation – precise angle cuts, weld-prep bevels and advanced contours such as saddle joint cuts. The 64-bit control incorporates illustrated fill-in-the-blank screens to quickly program such complex contours and other cuts.
With its multi-axis torch, the SG-U 44 also laser-cuts stamped, hydroformed and spun pre-formed parts as well as high-speed 2D cuts and bevels in flat material.
With a small footprint, the SG-U 44 can process any length pipe and up to 4'x4'x7/8" sheet.
Mazak's Space CAM and FG CAD/CAM software options generate NC code from a 3D CAD drawing, imported or crafted in the system. Space CAM can also generate code for a slot-and-tab workholding fixture.