When you're running high production multiple shifts you need a heavy-duty metalworking machine with precision performance. When your workload is demanding and deadlines are tight, every step in your shop's production process needs to be synchronized. In other words, your machinery needs to be absolutely dependable. Enter the Timesavers Series 4200. Designed to handle the toughest demands and do it with precision the first, and every time, these series are easy to set up and run everyday….all day.
TimeSavers 4200 Series Dry Machine
Number of Heads: 1-4
Head Types: Drum, Brush
Machine Widths: 52", 64"
Up to 50 HP Main Drive Motor
103" Abrasive Belt Length
Automatic Abrasive Belt Tracking
0-6" Bed Opening (31"-37" Variable Passline)
25" Width: 15-45 FPM Feed Speed
11" Diameter Adjustable Contact Drum
11" Diameter Brush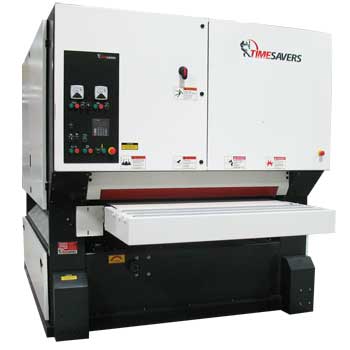 TimeSavers 4200 Top/Bottom Dry Machine
The abrasive brushes used are the same type that we use on our extremely popular Rotary Brush Machine. The brushes are composed of abrasive strips that do not utilize a backing brush. The Top/Bottom deburring machine has the flexibility to handle almost any job. The feed speed, head cycle speed, brush rotation speed, depth adjustment, and brush choice can all be set independent on one another
Head Types: Grinding Wheel, Brush
Machine Widths: 39"
Abrasive Brush Size: 3"x15.75"
Number of Brushes: 12
Quick Change Brush Mounting
0.030"-1" Bed Opening (37" Passline)
0.5-6.5 FPM Feed Speed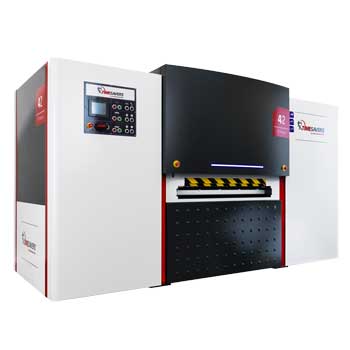 Timesavers 4200 Rotary Brush Dry Machine
The 4200 Series Rotary Brush is Timesavers most popular solution for customers who require a fully deburred part. This is accomplished using a multi-directional brush machine that uniformly deburrs and finishes the edges of laser-cut, punched, and machined parts in one pass. Providing even, controllable edge radiusing on flat, shaped, or 3D parts. The Rotary Brush will deburr edges without harming surface coatings such as cladding, zinc, or laser film.
Number of Heads: 1-3
Head Types: Rotary Brush, Drum
Machine Widths: 52"
Abrasive Brush Size: 12"x20"
Number of Brushes: 2 or 8
Quick Change Brush Mounting
0-4" Bed Opening (34"-38" Passline)
5-20 FPM Feed Speed
7" Diameter Adjustable Contact Drum
Vacuum Conveyor Bed is Standard