Providing the most accurate, productive, and profitable parts are essential to operation. Successful fabricators currently use the AFPS-643/663 to automate angle iron and flat stock processing with one machine that can deliver accurate, finished parts in seconds. A typical 6″ x 6″ x 5/8" clip angle with twelve holes, can be punched, marked, and sheared to a finished length in less than one minute.
Shim plates, cap plates and similar connections can be processed in no time; with the AFPS-643/663, change over time is less than 5 minutes, by simply changing the shear blade.
Production Versatility
The AFPS-643/663 can punch round or shaped holes (obrounds, slots, etc), mark the parts, and shear parts to length in one-pass, minimizing scrap.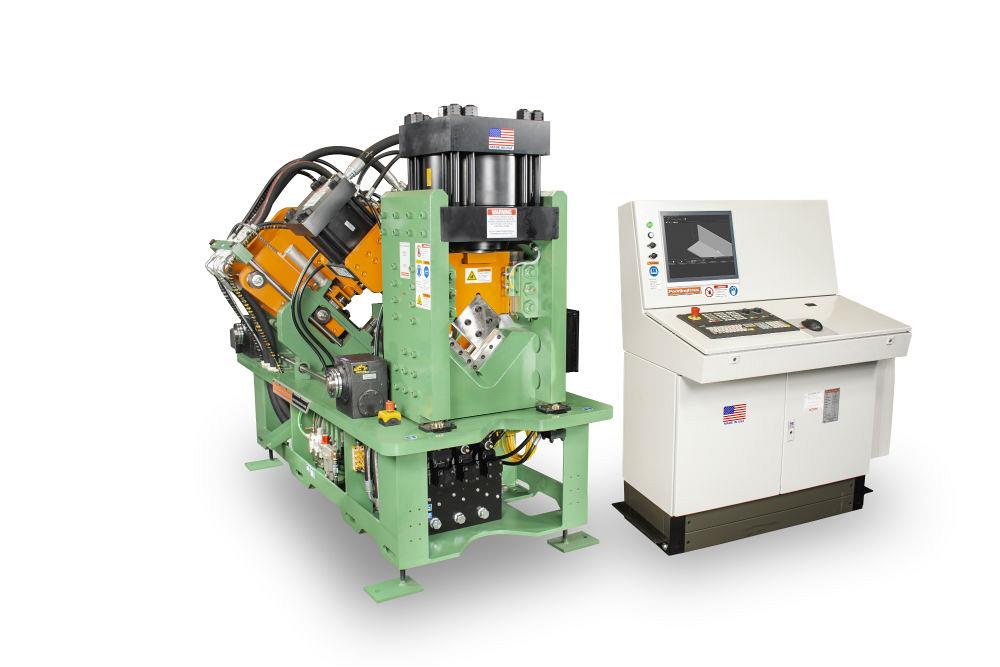 The Anglemaster can be provided with complementary loading and unloading equipment, to minimize material handling and further expedite production.
Structural Fabrication Applications
The AFPS-643/663 has unparalleled potential, with capacity to process angle from 1-1/2" up to 6" and 6" flat stock. The innovative one-pass design, make the Anglemaster an ideal valuable tool for many industries. Several industries can benefit from the AFPS-643/663, such as:
Structural Steel Fabricators
Steel Service Centers & Steel Stocking Centers
Transmission Tower Manufacturers
Heavy Equipment Manufacturers
Agricultural Manufacturers
Rock/Stone/aggregate Handling Manufacturers
Stadium Seating & Bleacher Manufacturers
Barge and Ship Building Manufacturers
Conveyor and Grain Handling Equipment Mfg.
Any application where angle iron, and flat stock, is processed
Specifications
Maximum Angle Capacity 6″ x 6″ x 5/8″
Minimum Angle Capacity 1-1/2″ x 1-1/2″ x 1/8″
Maximum Flat Stock Capacity 6″ x 5/8″
Minimum Flat Stock Capacity 2″ x 1/4″ OR 3″ x 3/16″
Maximum Hole Size 1-1/4″
Punch Capacity 75 tons
Shear Capacity 230 tons
Type of Shear Blade Single Cut
Machine Weight 12,000 lbs