This Safan electronic brake, the E-Brake 300T Dual Drive is the first servo-electronic press brake in the world with a patented double pulley drive. This electronic press brake can bend with up to 300 tons of force, without crowning!
Benefits of Electric Press Brakes
Up to 50% Energy Savings – Safan electric press brakes only use energy when the top beam is moving
Up to 30% shorter cycle times
Touch Screen Controls can be programmed quickly and accurately
Safan 300 ton Specifications
SafanDarley E-Brake Dual Drive 300T – 4100 mm
Q sizes: standard 690 mm, optional 750 mm -790 mm
Servo-electronic drive with a double pulley system
8 Servomotors on 4 axles
Up to 50% energy savings
Slim lower beam compensates very limited sagging
No need for a crowning table
Bending speeds of up to 20 mm/sec., bending cycle times cut by up to 30%
SafanDarley E-Control comes standard; numerical display of bending parameters and 2D programming with Easy 2D
Optional SafanDarley E-Control 2, 2D bending simulation combined with off-line programming or E-Control 3, 2D or 3D graphic programming
Integrated safety-light screen
Solidly constructed backgauge (system) with special spring stops and a 1300 mm working width.
CNC-controlled X axis comes standard, optionally also R, Z1-Z2 axes and dX axis or completely 3D
Large stroke length: standard 400 mm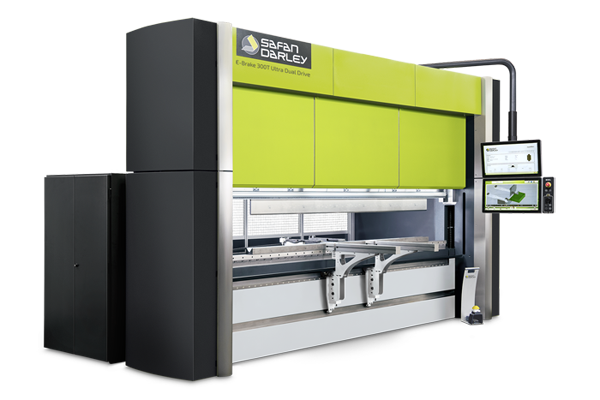 About the Dual Drive
In order to facilitate the step towards tonnages of 300 T (and more in the future), the Safan R&D department were faced with an amazing challenge: developing a new concept drive based on the tried and tested E-Brake pulley technique. The solution was found in a double pulley system, the patented SAFAN Dual Drive.
300 Tons of evenly distributed pressing force
The press beam is driven by eight servo-motors on four axles using the double pulley system. In a perfect balancing act with fixed and flexible rolls, flexible belts are used to create the most perfectly even distribution of forces across the entire press beam. The polyurethane belts are 100 mm wide and reinforced with steel wires, a very reliable and abrasion resistant technology that is also used in the elevator industry. This is why Safan gives a 5 year guarantee on this part of the drive (in combination with an annual service contract).
Thanks to the balanced distribution of force, the deflection is still minimal, even at 300 Tons.
Safan Control Complete Touch Screen Convenience
The SAFAN E-Control is fully touch screen, whereby the only buttons visible on the 17" screen are those that are needed during operation. The controls simply run on a PC under Microsoft Windows®, the software was developed based on Microsoft.net Framework. The unit is fitted with a 100 MB Ethernet UTP network connection as standard. The instructions are transmitted to a central processor from the SAFAN E-Control controls, which in turn regulates the various axis via a so-called CAN-BUS (Control Area Network). The system can be programmed quickly and accurately thanks to a 'self-teaching' database with data on materials, tools and previous, already corrected bending. The SAFAN E-Control can be coupled to the majority of off-line programming systems. The standard SAFAN E-Control 1 controls work with numerical input and bending parameters display, however the user receives immediate graphic support in many areas.
Web-based Communication and Support
The controls are set-up for web-based communication such as online diagnoses and loading software updates via the web. Machines can also be coupled to each other in a group and tooling databases can be shared. By monitoring and analysing your operating data online, Safan will be in a position to optimise your production process from a distance in the near future.