E-Brake Ultra 50-130T
The Safan E-Brake Ultra offers up to 30% reduction in cycle times and up to 50% energy savings. This machine comes complete with a tool clamping system for New Standard or European style tooling.
Benefits of Electric Press Brakes
Up to 50% Energy Savings – Safan electric press brakes only use energy when the top beam is moving
Up to 30% shorter cycle times
Touch Screen Controls can be programmed quickly and accurately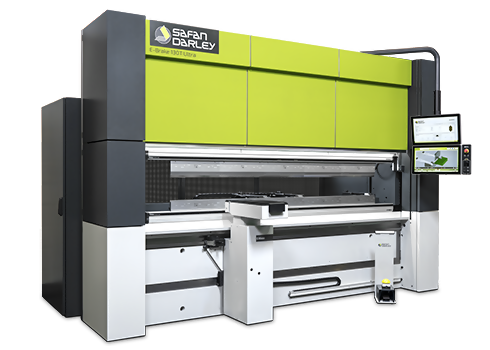 Standard Features of Safan 50-130 Ton Ultra
EC20 controls
Controls mounted on a swiveling arm on the right side of the machine
Y1/Y2 axis are CNC-powered
X axis is CNC-powered
R axis is CNC-powered
Z1 and Z2 axis are controlled manually
Wila NSCL-II Premium top tool adaptor equipped with mechanical clamping, with a maximum load of 84,0 US Ton/ft top-bearing and 100,8 US Ton/ft
Shoulder bearing and CNC deep-hardened tool clamping
Wila NSCR-II Premium CNC-powered crowning using mechanical clamping, CNC deep-hardened tool clamping, maximum load 300 T/mtr, Tx/Ty alignment
2 support arms (11,8″)
LazerSafe light beam protection, type LZS-004 (Delem)
Programmable and integrated safety light screen (E-Control)
Foot pedal including "Hold To Run" function
Work area lighting on the front and rear side of the machine
Electronic installation of mains connection 3/N/PE 50 Hz 230/400 VAC
The SafanDarley E-Brake has a newly developed control unit with a 17″ Touch Screen. The adjustable height of the control unit ensures optimum ergonomics for any operator whether short or tall. A standard accessory is 100MB Ethernet UTP network connection that opens up unlimited possibilities. The instructions from the SafanDarley TS control are sent to a central processor, which in turn activates the various axis by means of a soc called CAN-BUS. The system can be programmed very quickly and accurately thanks, among other things, to a self learning database of materials, tool and previous bendings.
The standard SafanDarley TS1 control uses a numerical bending parameter entry and representation and can optionally be equipped with the new software module SafanDarley Easy 2D. This software module makes it possible to make simple 2D drawings, generate bending program's and make bending simulations.
Options for graphical 2D/3D display
The optional SafanDarley TS2 control makes it possible to show externally programmed 2D and 3D products on the control.