A Wide Range of Press Brakes
We offer hydraulic press brakes from Accurpress, North America's #1 press brake manufacturer. Accurpress press brakes come in a range of tonnages from 25 to 3000 tons including basic rocker arms up to more accurate hydraulic brakes. Higher tonnages are also available for those who need them. We also provide the latest in graphical programming, the Accurpress Vision control.
Hydraulic Press Brakes
Accurpress has been building press brakes for over 45 years in North America. These machines are built to meet the demands of manufacturing environments. These press brakes are built for your application.
Read more…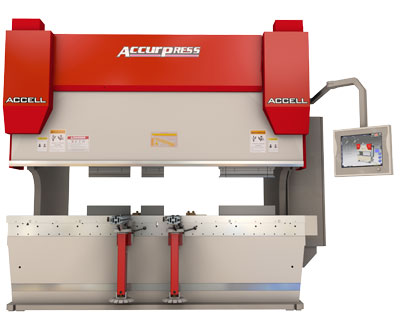 Electric Press Brakes
Modern Machinery offers Safan Electronic Press Brakes . These electric brakes are available in tonnages ranging from 20 to 300 tons. Take a look at the models we offer.
Read more…
Hybrid Press Brakes
Accurpress Accell Hybrid press brakes use a combination of electric and hydraulic drive systems for a quiet and highly efficient press brake.
High Quality Press Brakes
Accurpress brakes are manufactured and engineered to rigid standards to ensure a lifetime of accuracy and durability. Ask around. They are known for their dependability and provide years of low maintenance service. In addition, we back all of our Accurpress brakes with a two year parts warranty.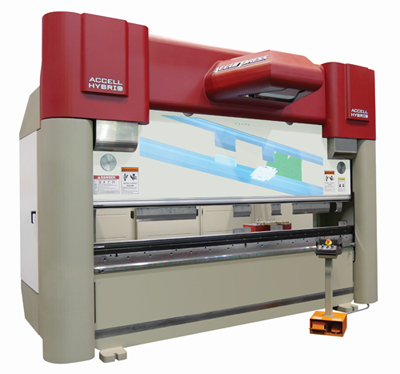 Dedicated Service
At Modern Machinery we maintain a service staff dedicated to providing you with the best possible press brake service and repair should your machine ever have a problem. Our team of Service Technicians receive the latest and most comprehensive training in the industry so when you need help, they are ready. We also offer phone support for minor issues to get you back up and running in no time. We also work with the manufacturers to order, ship and track your parts so you get them as fast as possible.
High Tonnage Brakes and Special Machine Modifications
Not only do we offer standard size sheet metal brakes, we also offer high tonnage brakes for those companies who form larger, thicker parts. Modern Machinery will work with you to provide a custom solution to your forming needs including modifications for ram open heights, bed cap dimensions, throat depth and much more. No matter the size, we will work with you to find the right press brake to fit your forming requirements.
Contact Modern Machinery at 1-800-589-1444 to discuss your press brake requirements.
Press Brake Tooling
Modern Machinery also offers a complete line of press brake tooling including Wila hydraulic clamping and crowning for easy set up.